Sage Coffee Machines: Our Essential Guide
Published 11 September 2023
A Sage coffee machine is widely regarded as being an essential feature of any coffee lover's kitchen.
Renowned for their ability to deliver great third wave speciality coffee, these machines use the same 4 Keys Formula that professional espresso machines use so that you can enjoy the same barista tasting coffee that you expect to find in a café but in the comfort of your own home.
Since the coffee machines by Sage Appliances can depend on how involved you wish to get in your coffee preparation, here is our quick guide for you to choose the right one for your kitchen.
Jump to:
Types of Sage Espresso Machines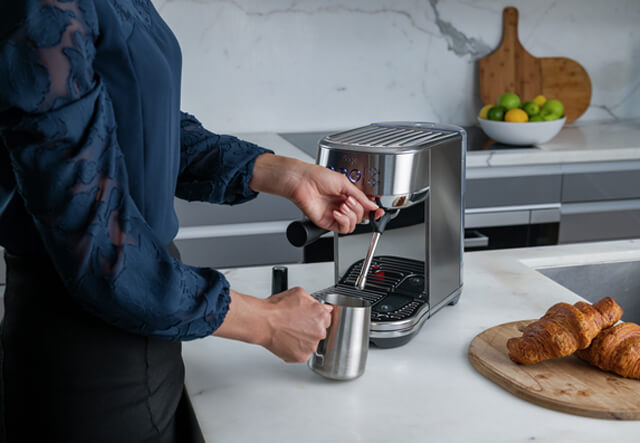 Sage the Bambino
This Sage espresso maker is ideal for smaller sized kitchens. Compact but mighty, this machine provides you with the ability to create 'serious espresso' at 'serious value.'
Operating with a simple one touch button controls that allows for 1 or 2 Cup as well as steam operations, this machine allows you create delicious espressos without fuss. The Bambino does not come with an integrated coffee grinder.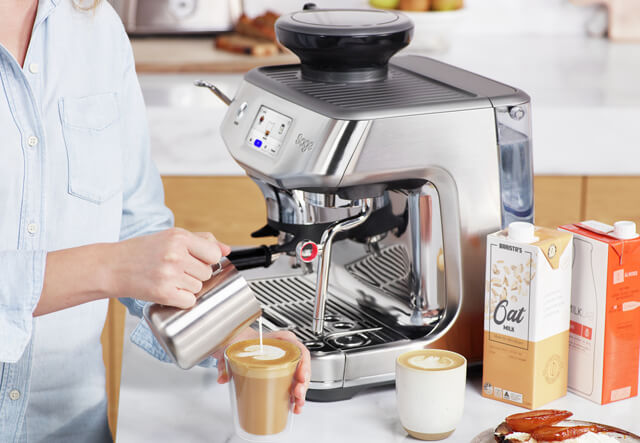 Sage the Barista
While larger than the Bambino, the size of the Barista still makes it suitable for most kitchen worktops. Coming with an integrated conical burr grinder that allows you to adjust the grind of your coffee beans, this classic Sage machine also grinds your beans direct into the filter to ensure a more flavoursome coffee.
Both easy and quick to use, the Barista provides both style and functionality making it an essential centrepiece of any coffee lover's kitchen.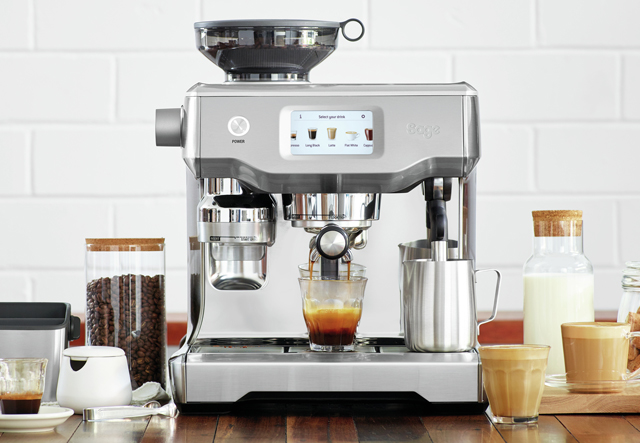 Sage the Oracle
This superior fully automatic bean to cup coffee machine takes the fuss out of making the perfect cup of coffee; coming with an easy to use touchscreen operation, this machine allows you to personalise your chosen coffee just the way that you like it! Equipped with an integrated conical burr grinder that comes with 45 grind settings, this machine is the pinnacle of personalisation.
Due to its size, this automatic coffee machine is perhaps best suitable for kitchens where there is plenty of space.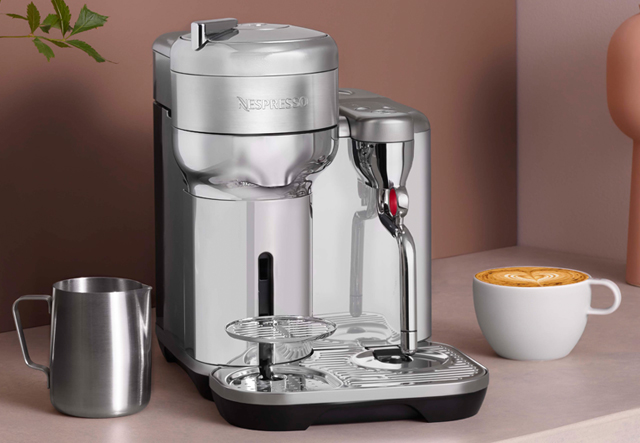 Nespresso by Sage
With their stainless steel outers, these Sage Nespresso pod coffee machines provide a touch of stylish flair to any kitchen worktop, but more importantly they are incredibly easy to use: simply insert your Nespresso capsule, select your chosen coffee setting and the machine does the hard work!
What is the difference between Sage Barista Express and Touch?
In short, the difference in models is that the Express is a manual, while the Touch is semi-automatic coffee machine.
What is the 4 Keys Formula?
Designed to reward you with a cup of great tasting coffee, all Sage coffee machines (excluding the pod machines) replicate the same 4 Keys Formula that professional coffee machine use. This formula consists of:
A dose of 18-22g worth of freshly grounded coffee beans
9 Bar optimal water pressure to ensure superior extraction
A ThermoJet heating system that provides accurate temperature control
A powerful stream ward that allows you to create the perfect microfoam – ideal for recreating your latte art in your kitchen!
These four elements combined result in producing you a barista tasting coffee that is the hallmark of the third wave; once you have tried it there is no going back!
When you have you decided on which is the best Sage coffee machine to buy (whichever you choose you are sure to be rewarded with a great tasting coffee time after time), why not explore what else Sage Appliances have to offer your kitchen!